Book Review: Ever Alice by HJ Ramsay
Ever Alice
HJ Ramsay
Red Rogue Press
Published: August 1, 2019
Fantasy, Young Adult/Teen
ISBN: 9780996923941
What really happens to Alice after she comes back from Wonderland? According to Ever Alice by HJ Ramsay, poor Alice's life is never the same. This tale takes readers on a journey with Alice back to the "curiouser and curiouser" world of Wonderland, reuniting us with favorite (and not-so-favorite) characters, and putting a whole new spin on this beloved tale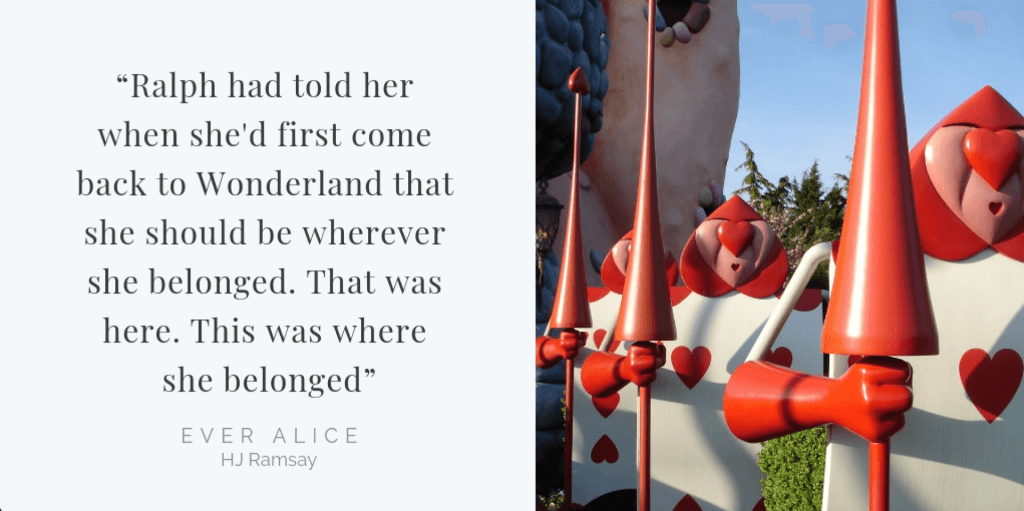 When Alice returned from Wonderland in the original Lewis Carroll tale, life was supposed to return to normal for the silly blond girl. However, with no one believing her stories of talking animals and the Queen of Hearts, Alice found herself torn from her family and place in an asylum. There was only one way out of this situation, and that was a return to Wonderland, to the Queen of Heart's palace, and to a whole new adventure.
Alice is reunited with her beloved White Rabbit (real name, Ralph), who has a new mission for Alice – kill the Queen of Hearts. Then she will be able to return home and all will be well. What Alice doesn't expect, is to make friends in the Queen's court, and maybe even fall in love?
Ever Alice was an  exciting and unique twist on the typical Alice in Wonderland tale. HJ Ramsay takes us deeper into the land we became familiar with in Lewis Carroll's original works and leads down a dark and sinister path of plots and intrigue. At times the story seems to be heading off a cliff, but Alice always finds a way to solve the problems and come out on top, even when it seems impossible. She is a beloved heroine and Ramsay does an excellent job of staying true to the whimsy and wackiness of the original Wonderland, while taking us on a whole new journey. Any teen, young adult, or even adult who enjoys the original Alice tale should definitely pick up a copy of Ever Alice.
I was provided with a complimentary copy of this book so I could give an honest review.