Book Review: The Remarkable Inventions of Walter Mortinson by Quinn Sosna-Spear
The Remarkable Inventions of Walter Mortinson
Quinn Sosna-Spear
Simon & Schuster Books for Young Readers
Published: April 2, 2019
Fiction, Middle Grade
ISBN: 9781534420809
Walter Mortinson is a unique boy in a town where being unique is not a good thing. Walter is an inventor. While searching for his own identity and a connection to his late father, Walter finds friendship, love, and the real meaning of family.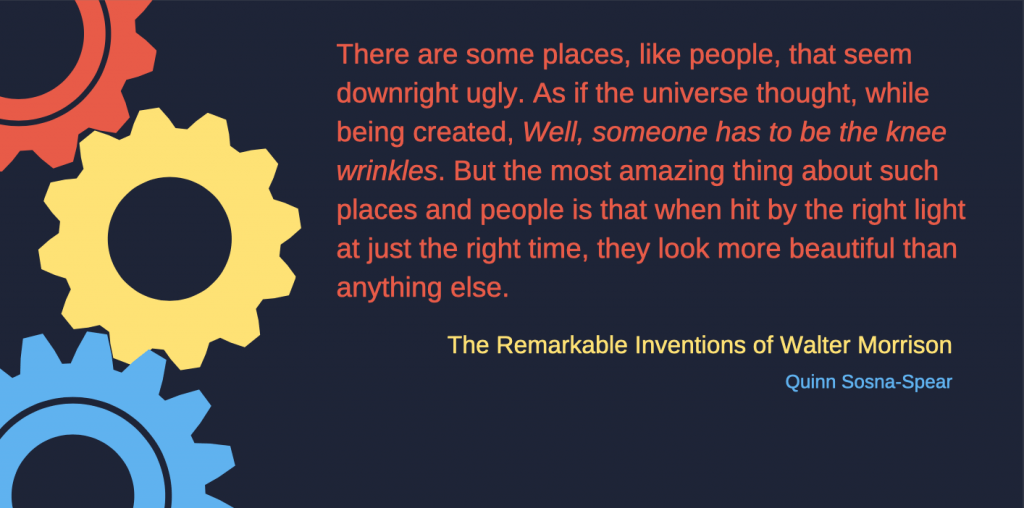 Walter Mortinson's father, Maxwell, died when Walter was just four years old, but Maxwell's creativity and inventiveness lived on in Walter. Unfortunately, Walter's mother Hadorah was determined to quash all inventing and force Walter to be like everyone else in the humdrum, grey town of Moormouth. When Walter receives an invitation to become an apprentice to the great Flasterborn, he sets out on an adventure with his one and only, somewhat-friend, Cordelia Primpet. They travel through strange towns to arrive at Flaster Isle, each searching for the one thing they believe they desperately want.
Artistic, inventive, creative and completely outcast from the town of Moormouth, Walter is relatable to anyone who has ever felt friendless or alone. The same can be said about his traveling companion, Cordelia Primpet. Cordelia isn't outcast for her mind like Walter, but for her appearance and an illness that she has dealt with since childhood. The Remarkable Inventions of Walter Mortinson teaches how being different can sometimes be a wonderful thing. Through Walter and Cordelia's journey, we learn about their unique personalities, their sad histories, and the hope that keeps them going.
This book was a fun, imaginative read that would be perfect for any middle grade student. If you are looking for a good read aloud for 4th or 5th grade, this one would be fabulous!
NetGalley provided me with a complimentary copy of this book so I could give an honest review.